Content production is growing and becoming essential in any Inbound marketing strategy. The classic marketing model, based on targeted advertising, is declining in intensity. To attract customers, brands are turning towards creating relevant content as it is the solution recommended by experts in Inbound strategies and content marketing.
Page Contents
Marketing oriented to content generation

The advantages of good SEO
The different actions for a good SEO strategy

The content
LinkBuilding
Accessibility and speed
The trust
Social networks

What can SEMrush do for our SEO?

Domain and keyword analysis
Organic traffic forecast
Content audit
Post tracking
Social media poster
Topic Research
SEO content template
Link building
Marketing calendar
Brand tracking
Marketing oriented to content generation
Content Marketing, also known as content marketing, is a term that refers to how a company will generate interesting and relevant content to attract its prospects or customers.
The objective of content marketing is to attract visitors to our website and then convert them into potential leads and potential clients.
This marketing orientation is called Inbound Marketing which is the opposite of Outbound Marketing, a mass media advertising strategy. These two practices differ in the following way: the first one contributes your perspectives by producing interesting content, while the second one will look for your potential clients with a great endorsement of publicity directed to a massive public.
Recurring content used in a content marketing strategy includes articles / blogs for informational and advisory purposes. These are the two most used resources since they improve the optimization of the site in the search engines. The hackneyed SEO.
When we talk about content marketing, we are not only and exclusively referring to the content on the blog , but also include the descriptions of the products in an e-commerce, news, videos and forums. All of these resources, among many others, are also content that can be found within a content marketing strategy.
In general, the content that is needed for our business is produced by a specialized copywriting agency, but it is also possible – and recommended – that the company generate its own articles and content.
Faced with the decline of traditional marketing, or Outbound Marketing, which costs more and more for less and less results, content marketing techniques are booming.
The advantages of good SEO
What is SEO?
SEO, Search Engine Optimization or search engine optimization in Spanish, corresponds to the positioning of a site, a web page, in the natural results of search engines. We are talking about optimization, metatags, and SERP (search engine results page) to define the positioning of a site.
In Spain, around 93% of queries are made in the Google search engine , which implies the need to comply with Google's positioning system and take into account the criteria that its algorithm uses.
To optimize your referral, it is necessary to follow some rules, acquire automatisms and especially establish an SEO strategy.
The different actions for a good SEO strategy
Implementing an efficient SEO strategy requires working on several elements.
The content
The first lever to consider is content , which is an element explored by search engine algorithms .
Content is a concept that includes:
The choice of keywords is the essential step to position yourself in the most requested searches for your objectives.
Organizing your website. It must be easily navigable by your users, but also by search engine bots
Optimization of all web pages and the use of internal links. This allows us to upload our site in the SERP of the search engines
Frequent publication through regular activity on our website, as it favors positioning in new keywords.
LinkBuilding
LinkBuilding seeks to multiply the number of inbound links to our website, to promote a page or the entire website. Monitoring our LinkBuilding strategy is essential because inbound links influence our target reputation and search engines.
A good LinkBuilding strategy is measured as follows:
The number of inbound links: directly impacts our ranking in the SERP
The quality of the sources: the notoriety of the origin sites of our inbound links affects the notoriety of your site. The more important the site from which our link comes, the more it will help us to position it.
The text of the links: a link attached to a keyword will be more effective than a link in a word such as "click here"
Accessibility and speed
These two notions are important to optimize our website in search engines, through algorithms:
Search engines cannot read content that cannot be accessed by smartphones, tablets, computers of all brands, formats and operating systems. Compared to mobiles, compatibility goes through responsive design, which is an increasingly important positioning criterion.
The structure of our pages: a site and pages that include simple HTML tags make it easy to navigate using search engine algorithms.
The speed of our pages affects user behavior, and rebound, our SEO positioning. If the user leaves our website, because it is too slow, and returns to the SERP in search of other results, this will directly affect our position in the engines.
The trust
Trust is the image that gives our website to search engines. The notion of trust includes:
The authority's website: trusted seal given by a search engine: influenced by the number and quality of inbound links.
The history of the site: affects the confidence of search engines. A site that has hosted viruses, a site that has changed content and themes too often, or a site that has accumulated multiple owners will not create trust in the engines and will not rank well.
Social networks
The content shared on social networks is taken into account by the engines , considering that the URL shared by a user is equivalent to a rating given by human users, so greater visibility is assigned to the content. The indexing of tweets is also taken into account by these algorithms. User experience.
User experience must be at the center of our SEO strategy since the bounce rate that is generated influences our ranking. The geolocation of the user, the duration of his visit, his history, his actions, will give search engines a perception of our website that will influence our SEO positioning .
What can SEMrush do for our SEO?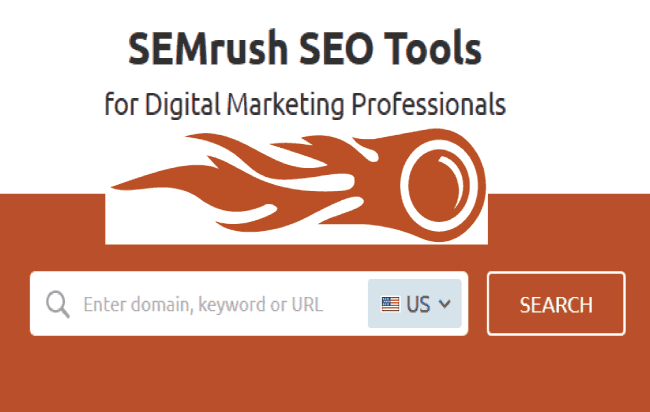 SEMRush is software for SEO and search engine marketing professionals, which allows us to analyze and compare our data with that of our competition.
SEMrush offers us a very wide range of tools that will help us optimize our SEO.
Domain and keyword analysis
With the Content Analyzer, analyzing the market and the competition helps us anticipate trends and understand the expectations of our target audience, which allows us, among other options, to identify our strengths and weaknesses and find a topic to discuss.
It also scans our competitors' domains to detect the best keywords and associated terms that aren't in the top 10 yet. So that we can create a list of topics with high SEO potential to deal with in the creation of our content.
It also analyzes opportunities and compares our keywords with those of our competitors to discover which ones we have in common, allowing us to compare our positions in the searches our users do.
Analyze our keywords to obtain the volume of searches, the number of results they generate, the level of competition, etc. From here, we can get an idea of ​​the relevant keywords to create related and interesting content for our audience.
Organic traffic forecast
Many professionals, and non-professionals, are certainly frustrated because Google Analytics hides the keywords on which our website is pulling. With Organic Traffic Insights we have the solution.
With this tool, we get more data on our keywords to develop a more profitable SEO and content marketing strategy.
By connecting our Google Analytics account to SEMrush, we obtain a list of keywords that appear as "not provided" in Google Analytics.
Content audit
With the content audit tool we can continue to work on improving our content and optimizing our pages by evaluating existing content. Once analyzed, we can create a plan to optimize these contents.
Content Audit generates an inventory of all the contents of our website and the analysis data of our actions. It allows us to identify content with high SEO potential easily optimizable.
The Content Audit option also allows us to perform a competitive analysis to visualize the content that generates greater visibility and engagement among our competitors, topics already addressed or not yet addressed, and offers us a comparison with our similar content.
Post tracking
Measure the performance of our content to fine tune our strategy.
It analyzes our existing content as well as external content published on other sites and compares them to ours.
Follow recently published new content.
Obtain data on SEO results, the behavior of our users, the interaction rate generated by our content, etc …
Social media poster
This section is very interesting because it goes beyond SEO itself. Social Media Poster is a tool to distribute our content on social networks. An essential part of our SEO strategy, but in this case, it also does a good tracking analysis.
With the Social Media poster tool, we can automate the distribution of our content on social networks: plan, schedule our publications on Facebook, Twitter, Instagram and Linkedin.
It provides us with ideas for our publications, provides us with detailed monitoring and in-depth analysis of our social media strategies.
Topic Research
With Topic Research, we can get ideas for creating new content , search for popular topics and titles for our keywords.
SEO content template
This tool allows us to create optimized SEO texts . We will have to introduce one or more target keywords and the tool will analyze the main 10 pages that are positioned for these keywords in Google.
He will then give us recommendations based on this analysis: the keywords to incorporate into our text, the length and readability of our content, the sources of backlinks, and ideas for metadata optimization.
Link building
Link Building provides a list of opportunities offered by different sources: organic search, competitors, mentions, lost links, etc.
It enables you to manage a partnership campaign by facilitating contact with the owners of the various sites you are targeting.
Marketing calendar
With Calendar Marketing, manage your editorial planning. This enables you to meet deadlines, monitor workflows in real time, and share project progress with your collaborators.
Brand tracking
The brand monitoring, or Brand Monitoring, seeks to distribute our content through external resources , such as blogs and other means.
For this step, we need to find relevant resources, contact them, find common ground for their publication, mention them, and create content tailored to their requirements.
The Brand Monitoring tool allows you to establish a list of resources to contact following the mentions of your brand and those of your competitors. Sites that mention your brand and / or your competitors represent potential resources for the distribution of your content.