There are tools that will allow us to take our SEO strategy to a higher level. This is the case of Semrush , which will allow us to better understand the SEO that we are doing to our site and, above all, to know what our competition is doing in order to overcome it . In this article we will see at first what Semrush is, to later show you the analysis of one of our pages and see how to use it.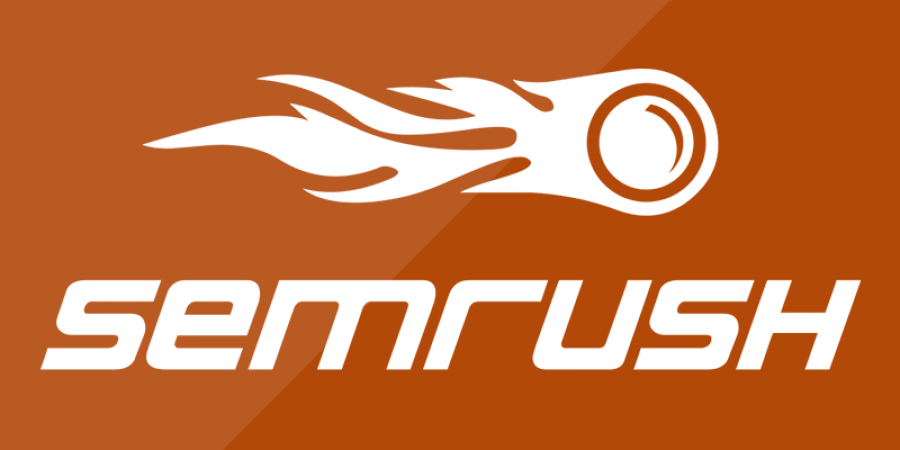 What is Semrush?
Semrush is a tool for analyzing the keywords for which a website is positioned . With this tool we will know which keywords we must reinforce (they will give us more visits, the cpc is greater, etc.) and also by which keywords the competition is positioning itself.
This application is a web application, so it is not necessary to download anything to use it . We just have to enter through any browser, add a website and search. The only "downside" it has is that it is not free and without paying it only allows you to access certain information . If you have several web projects or work with third party websites managing their positioning, I recommend that you pay the fee, in the long run it is quite profitable. In addition there are usually enough promotions on the network to get a good price on the annual subscription.
Semrush guide, how does it work?
Surely you have put yourself in front of this web application more than once and have not understood anything that can be done with it. We were going from an analysis of this same website, but as it has little time, better to take a website that we have older within Communityme's own projects . Through the analysis of this website, we will see the different options that Semrush offers us . It is a guide for those who do not know how to use it, so if you are familiar with it it may seem too basic.
The first thing we have to do is go to the Semrush home page . Add the url that we want to analyze (remember, ours or that of the competition) and click on search. Also choose the country in which you want to analyze your website, as our website is focused on the Spanish market, we are interested in marking Spain to analyze the results that Google gives in our country.
We start looking block by block what this tool offers us. The first thing we have is a ranking . In this way we will know what our website's score is, quite useful to know how we are compared to other competing websites. Or for example, to find out if it is worth buying a link or banner from other websites. With this tool there will be no deception possible.
On the right we find the evolution of traffic on our website . This can be interesting to identify penalties and to know if we are doing things right or, if, on the contrary, we have problems and it is necessary to change the strategy. At the bottom we are interested in knowing the keywords that we have positioned in different countries . As is logical, Spain occupies almost 100%, although it is also synonymous with the fact that we have to work on keywords in the rest of the countries, because by sharing language, we are losing a significant number of visits.
If we now enter the Organic> Positions page , we find something similar to what was previously seen. But with a table that did not appear and that is what is really interesting about Semrush. In it we can see those keywords by which we are positioned . These can be ordered to see which ones give us more traffic, which ones give us more income because they have a higher cpc, etc. In this way we will be able to know how we are positioned in Google and how our competition is.
In our case, since the Job in England website we make profitable mainly with Adsense, we will classify this traffic by cpc. The keyword that gives us the most money if users click on the ads is the one related to a website called Sharedtalk and the masters. From now on it will be a matter of talking about these issues to increase the income we have with Adsense .
This table will also allow us to know by which keywords our competition is positioning itself . Maybe we are losing an important keyword for not taking it into account and that is giving a lot of visits to our competition.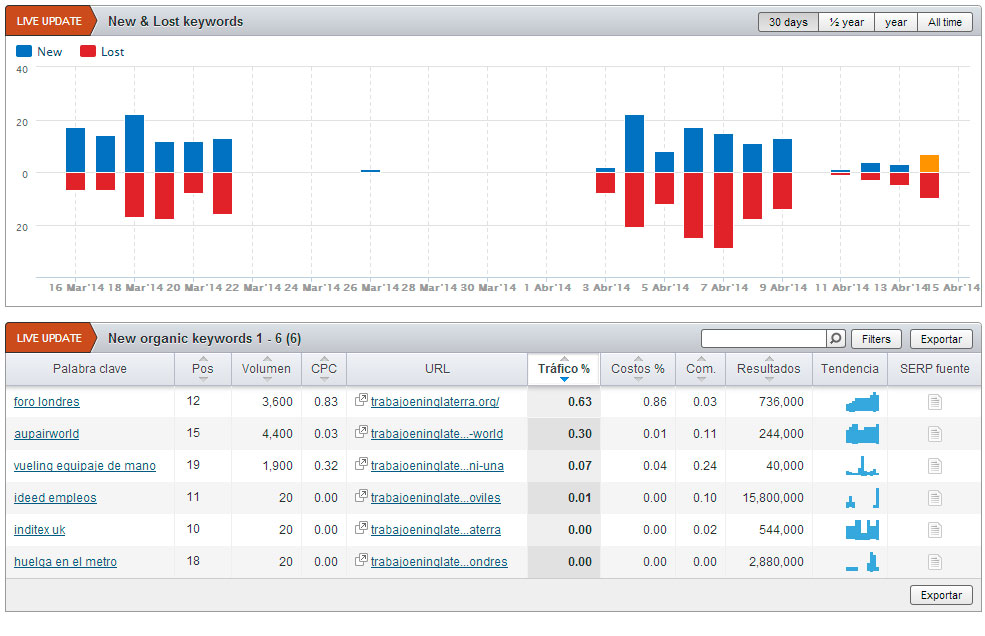 In the Organic page > Position changes we can consult this table that is just above. In it we can see the main changes in our keywords . This will allow us to see how we are evolving in Google with our keywords .

In Organic> Competitors we get the table at the top. This is where the magic lies SEMRush at a glance can check what are the main competitors of our site based on common keywords , the keywords of the search, etc . In addition, we will be able to analyze them one by one to see how they are doing it and why they have the traffic that this table also shows us. All this can be ordered by clicking on the titles (as in all the Semrush tables), to see which of our competitors have a greater number of keywords with us, which ones have the most traffic, etc.
There is some other option in the menu on the left to analyze our website or that of the competition, but mainly I am left with what has been seen previously because it is what will really allow us to get the most out of our website. As I have mentioned before, this tool will not take off our website for the mere fact of analyzing it. What you have to do is use this tool to get the most out of the keywords that are giving us more money with Adsense, or to analyze the competition and see how we can "steal keywords from them."
Analyze keywords with Semrush
Another interesting application of this tool is to analyze keywords separately . The operation, again, is very simple.
The first thing we have to do is search for the keyword to analyze . In this case we are going to analyze «digital marketing». The result appears on the first page, here we can already draw quite a few conclusions about our keyword, let's do it!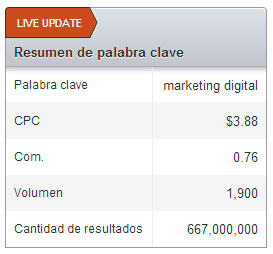 The first information that Semrush gives us is that the CPC of this keyword is $ 3.88. That is, if we exploit our website with Adsense, we will earn around € 2 for each click. If we are going to buy Adwords advertising, then we will have to pay around € 3. The search volume for this keyword is approximately 1,900 per month.

In these two tables that appear below we also have interesting information. In the one on the left we can see how the investment in Adwords of that keyword is distributed . In the one on the right we find the trend of the keyword in recent months . As we see it is quite stable. If there were a peak in a month and then it would tend to zero, perhaps we are dealing with some fashionable keyword that has already passed and we are not interested in investing in it because there are hardly any searches.
This table also offers us very interesting information to analyze the keyword in question. The first thing we have is the phrase match report . In this way we will know which phrases where our keyword is included, have more search volume and higher cpc . This can serve to give us ideas about the terms to position on our site and to look for alternatives in the event that the domain of our keyword is not available.
The second table, which shows us a report of related keywords , allows us to analyze the keywords that Semrush considers related and see their volume and their cpc. Perhaps we may be interested in changing our keyword with one of these or positioning more than one on our site to get the most out of the organic positioning of our website.
The third and most important table allows us to know the competition for this keyword . In this way we will know who is positioned in the first place by our keyword. Clicking on them we can analyze it to see what keywords to position. This, together with another tool such as ahrefs that allows us to analyze links, will let us know how the competition has worked on a keyword and how we can "attack" it with a similar strategy.
And ultimately this is all that Semrush allows us to do. As you will have verified, this is an analysis for the most novice in this tool. If you want to get more out of it, it is a matter of experimenting, looking for and taking advantage of all the information it gives us to take the SEO of our websites or those of our clients to another level.
How to get an account of this SEO tool?
We update this post because, as always, we like to give you those tricks that have been very useful to us. In this case we will give you the tricks that have allowed us to get Semrush accounts for a limited time but that have allowed us to fully exploit this SEO tool for a while.
Write a blog post about Semrush. The Semrush team is very attentive and if you write a post about this quality tool that really adds value to the use of it, you may receive a message from someone on the team who will offer you, for a time, an unlimited account of this tool so you can talk more closely about it. Do not forget to put a link to this article if it has helped you to get a paid account ?
Attend one of the courses sponsored by Semrush. This tool is present in a large number of courses, both online and physical, which will allow you to train in online marketing topics. In many of these, a premium account of this SEO tool is offered to all participants.
Attend an event. This is where we got an account to test this tool without limits. After attending SEonthebeach and winning one of the many contests that take place in this great SEO event, we got the account submitted by FernandoSemrush , a member of the team.
Going through the box. It is such a useful tool that it is well worth spending at the checkout. To test it, you will surely appreciate the alternatives that I have put before you, but if you really work in the SEO world or have your own websites, you are going to get a lot of profitability and it is worth paying some of the accounts that this SEO tool has. From this link you can get hold of it