Created in 2008, SEMRush is a digital marketing and SEO tool platform designed to optimize everything from competition research to web traffic analysis. The website also contains many additional resources, including briefing books, webinars, and blog posts.
Given its effectiveness and range of functions, SEMRush is currently one of the best options among SEO services, providing many tools to help optimize SEO strategies to increase traffic and sales.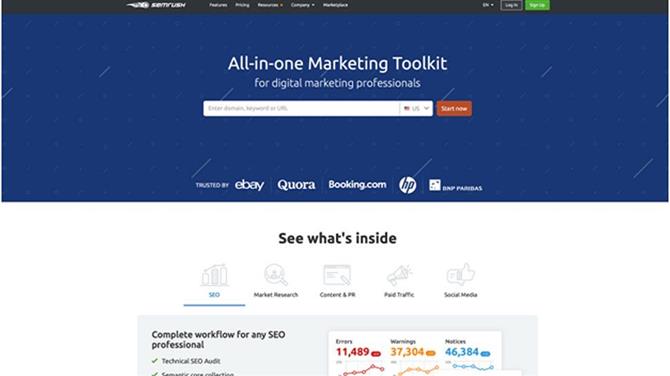 PLANS AND PRICES
SEMRush is available in three price categories, and a customizable Enterprise solution is available for large enterprises. More expensive subscriptions open up new features and increase restrictions compared to lower levels.
Pro is the most affordable SEMRush subscription for $ 99.95 per month. A guru costs $ 199.95 a month, and a Business costs $ 399.95. Enterprise pricing depends on the needs of your organization. All annual subscriptions receive a 16% discount. A seven-day free trial is available for Pro and Guru, but not for Business or Enterprise ..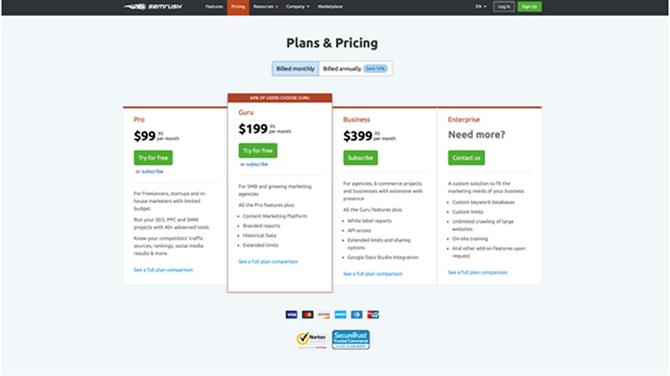 Plan Pro is for freelancers, startups, and other small businesses with small marketing needs. It offers basic SEO, PPC and SMM features, as well as competition studies.
The guru introduces additional tools, including historical data, company reports and a content marketing platform. As mentioned above, it also raises some limitations to fit the needs of larger organizations. For example, Guru subscribers can track up to 1,500 keywords compared to 500 Pro users.
The business provides yet another zoom in addition to powerful features such as integration with Google Data Studio, API access, and tag reports. If Business does not meet your needs, contact SEMRush directly for more information on corporate subscriptions.
CHARACTERISTICS
SEMRush supports many SEO-related features, allowing companies of any size to more dynamically approach keywords, backlinks, and more. For one monthly fee you will receive the tools necessary to conduct more effective campaigns and analyze past results. Below are just a few of the most important features.
KEYWORD RESEARCH
SEO and PPC campaigns rely on high-quality data, and SEMRush offers all the information you need to optimize your keyword strategies. Subscribers can view CPC, volume, trends, and more for all search terms based on both organic and paid traffic.
BACKLINK ANALYSIS
A strong backlink profile is critical to visibility. With SEMRush, you can conduct in-depth link analysis to identify backlinks and anchor texts, measure the authority of domain binding, compare your backlink profile with competitors, and much more ..
COMPETITION STUDY
Similarly, SEMRush offers robust competition research features, helping you stay ahead of other companies in your area. You can track everything from keywords and copy to GDN advertising budgets and strategies, and the SEMRush Organic Competitive report has all the other domains in the top 20 on Google ..
DIGITAL MARKETING
In addition to supporting search engine optimization, SEMRush works well as a digital marketing service for social networks and content marketing.
A tool for social networks makes it easy to plan future publications, analyze performance, and more. You can use the content platform to identify topics, manage documents and deadlines, or even order content directly. These features make SEMRush significantly more flexible than SEO-oriented tools and not other areas of digital marketing.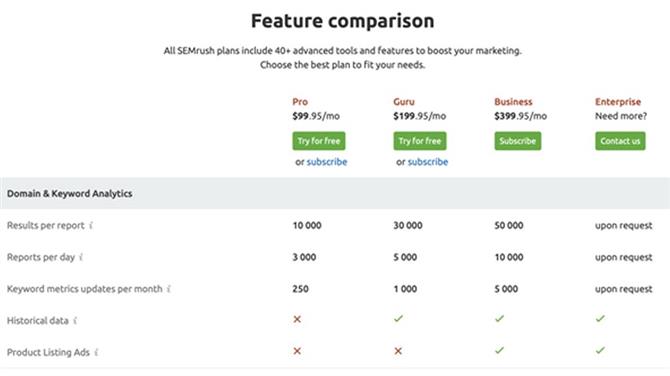 INTERFACE AND TO USE
The SEMRush website divides functions into five categories: domain analytics, keyword analysis, project, lead generation and reports. You can also access some of these tools through a mobile application available on both iOS and Android. Unfortunately, many features are limited to the site.
SUPPORT SERVICE
SEMRush provides free phone support to help you troubleshoot and get the most out of your service. Unfortunately, this is only available Monday through Friday from 10:00 to 18:00 EST. You can also contact SEMRush support by email.
Fortunately, there is also an extremely detailed knowledge base, which includes videos, guides, and other guides. This area of ​​the website covers everything from the first steps to more sophisticated tactics for advanced users. You can view detailed FAQs and a guide for each individual tool and report in SEMRush ..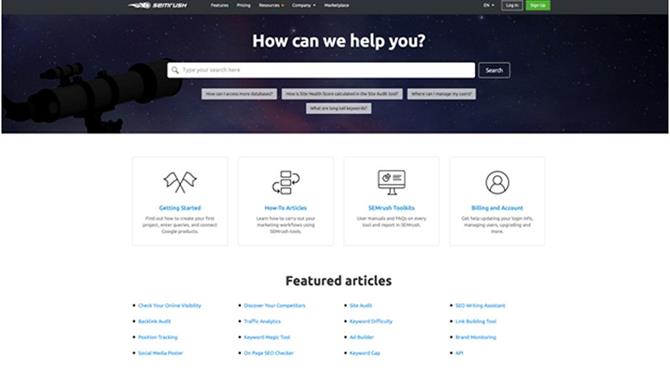 COMPETITION
SEMRush is generally consistent with other SEO services in terms of both price and tools. For example, Moz Pro, one of its main competitors, has comparable subscriptions for 99, 179, 249 and 599 dollars a month, with each update adding higher restrictions and new features.
It is also worth noting that some platforms have much more affordable plans than SEMRush or Moz Pro. If you do not need everything that is included in the Pro subscription, or if $ 100 per month is more than you want to spend, you should consider a service with a lower barrier to entry ..
FINAL VERDICT
SEMRush is an extremely powerful tool for almost every aspect of SEO, and it can take your SEO strategies to the next level. It also comes with a robust set of marketing features that set it apart from similar platforms. All things considered, SEMRush is currently one of the best options for companies that want to invest in SEO.
SEMRush : 15 TIPS ON HOW TO OPTIMIZE YOUR RESULTS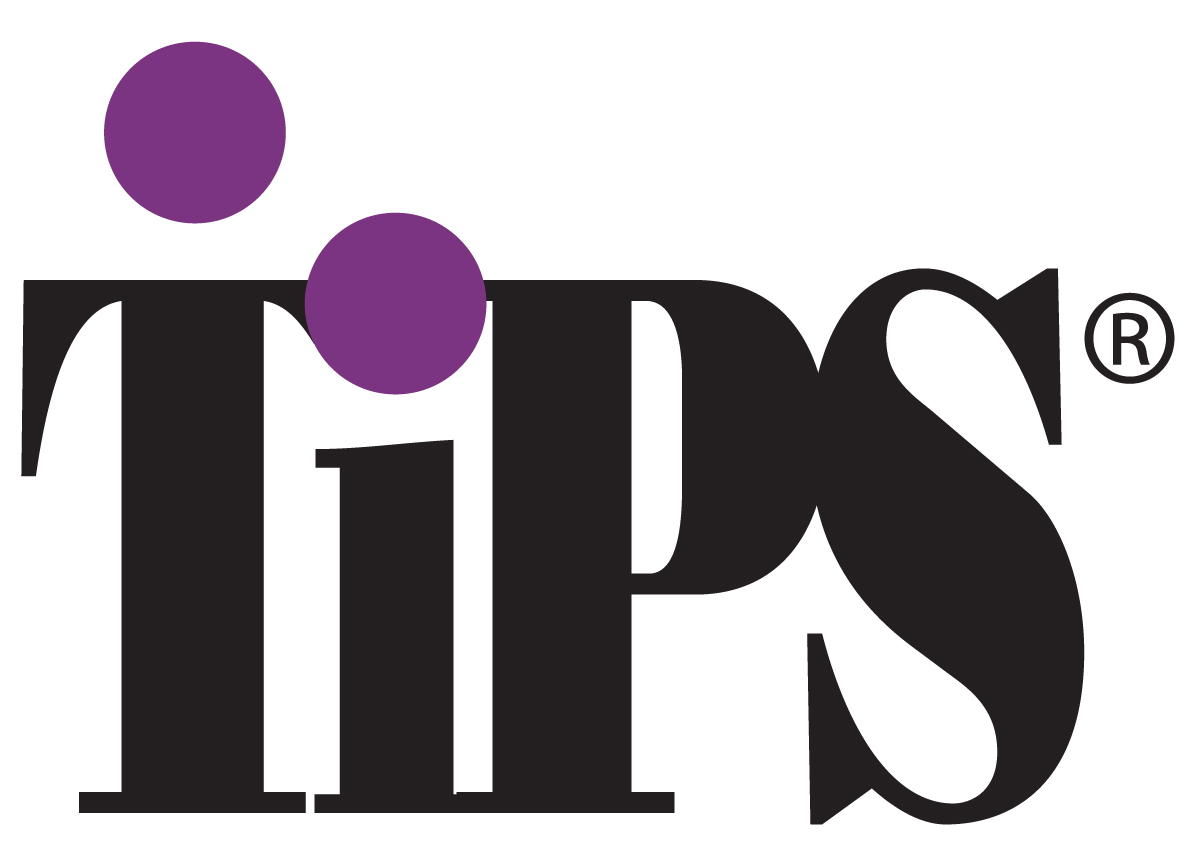 Digital marketing has a wide range of opportunities: reaching people regardless of time and space barriers, fast transmission of information, business visibility, spaces for innovation, etc.
However, to take advantage of so many possibilities and resources, you need to use the right tools. After all, in an ocean composed of data, competitors, and constant news, your vessel is what will enable you to navigate with firmness and tranquility, taking advantage of all that these rich waters can provide.

Therefore, in this post, we present the SEMRush tool, a resource that can help your marketing management, SEO strategies, campaign monitoring, and much more.
15 tips to optimize your business digital marketing results with SEMRush
1. Learn more about SEMRush
SEMRush is a set of integrated digital marketing tools. The resources help in the content strategy of your business and offer valuable information about the competition. Some of the features include:

• SEO audit
• Monitoring the position of your website
• Keyword suggestions
• Ideas to generate more organic traffic
• Analysis of paid advertisements
• Checking the performance of posts on social networks
• Identification of the most effective channels;
• Analysis of competition performance
• Identification of competitors
• Comparison of sites
• Among many others
2. Review the plans

As this tool is paid, it is worth exploring the SEMRush website, checking the particularities of each package and checking what best meets the needs of your business, respecting your budget. In addition, you can switch plans or cancel your subscription at any time, depending on your experience.

Operation
3. Understand the home panel

To start using the tool, you must register. Then, just access the dashboard. In it, you can manage different projects, have an overview of each one, search for domains in the search bar and access different options.
4. Do a domain analysis

You enter the domain you want to view and review the information presented. You can do this to check how your site is doing, to know how a competitor is performing or even to be inspired by data from companies you admire. One tip is to not use http: // or www to analyze the domain in full.

5. Specify the country of the analyzed website

Don't forget to specify the country of the domain you want to analyze. This is especially important for companies that have websites in different locations.

6. Check organic traffic data

It is information originated from searches made on search engines, without the use of ads. You can check the main keywords sought by users that lead to your site, main organic competitors etc.

7. Review the paid search information

It is also important to monitor the results generated by paid search, that is, those derived from advertisements, banners, sponsored links, etc. It is also possible to check cost per click, keyword density and more.

8. Understand what backlinks are

They are links in other domains that point to yours. Google uses this information to determine the authority and credibility of your content, thereby influencing your placement in search results. SEMRush generates reports on your website's backlinks, allowing you to analyze your relationships, know your geolocation and which pages are being linked in your domain.

9. Enjoy the side-by-side comparison

This function allows you to compare two or more domains, providing important information to evaluate points where they are similar and, therefore, are competing. It is possible, for example, to know the keywords in common and the position of each in the respective domains.

10. Explore keyword features

One of the main elements of SEO is the keyword. The tool has several features related to this:
• Search for keywords based on a topic;
• Discover variations of a keyword;
• Analyze costs per click, trends, search volume, density and other data for each word;
• Keyword Difficulty: discover the level of difficulty to be in the same position as a competitor for a particular keyword;
• Keyword Magic Tool: generate keyword suggestion and segmentation, calculate the potential of each one, export lists etc.

11. Optimize your ads

It's important to check which texts engage the most in your ads to optimize each one and encourage more clicks.

12. Perform an audit

The tool allows you to perform audits of your website, generating a score for health and pointing out errors, warnings, warnings, page breaks etc. It is also possible to audit backlinks to obtain data such as "toxic" links, for example.

13. Analyze your social networks

Currently, it is essential to be present on social networks, since most users use them frequently. Therefore, the tool generates reports for each channel, presenting data on engagement, visualization, comparison with competitors, etc.

Advantages and why to use?
14. Integrate and centralize information

One of the biggest advantages of this tool is the unification of several digital marketing resources in one place. This makes it easier to view, manage, monitor and obtain valuable information.

15. Optimize the resources of digital marketing management

As an integrated tool, SEMRush minimizes the manpower and time required to obtain, analyze and monitor the countless data available online. This represents cost savings for the company, as well as agility and the potential to be ahead of the competition.