What is SEMRush and how does it work? Are you currently looking for an SEO tool that allows you to do keyword research, keep track of keyword rankings, check competitors more significantly, do a full SEO audit of your blog?
The best tool I have used is  SEMRush.
Are you currently looking for an SEO tool that allows you to do keyword research, keep track of keyword rankings, check competitors more significantly, do a full SEO audit of your blog?
If so, let me introduce you to a tool that I have used and is trusted by many professional bloggers and SEO agencies. The tool I'm talking about is SEMRush.
"Should I start using SEMRush?"
I am going to answer this question now "Yes, you should use it daily", let me give you some details about my SEMRush experience.
What is SEMRush and how does it work?
What makes SEMRush an incredible SEO tool and a favorite among millions of users…
SEMRush made it easy to find any keyword from a website that is in the ranking.
When you are done doing your keyword research you can add keywords and track your positions on all major search engines => based on GEO (geographic location)
This is a very important feature for those who target a specific country like Brazil, Australia, USA, Spain, United Kingdom etc…. For a blogger, you can only use this feature to see how your site ranks in a specific country and keyword.
I think that every serious blogger and Internet advertiser should have this tool like this in their Arsenal.
SEMRush will help you find all the keywords for a website to be ranked on the internet search engines. It also gives you more details about specific keywords, related keywords, etc….
Now I'm going to show you an example, showing you the results for a specific domain
I encourage you to try it out with your competitors' sites
All I'm going to do now is add the domain name at the top of the page and here is the information I received.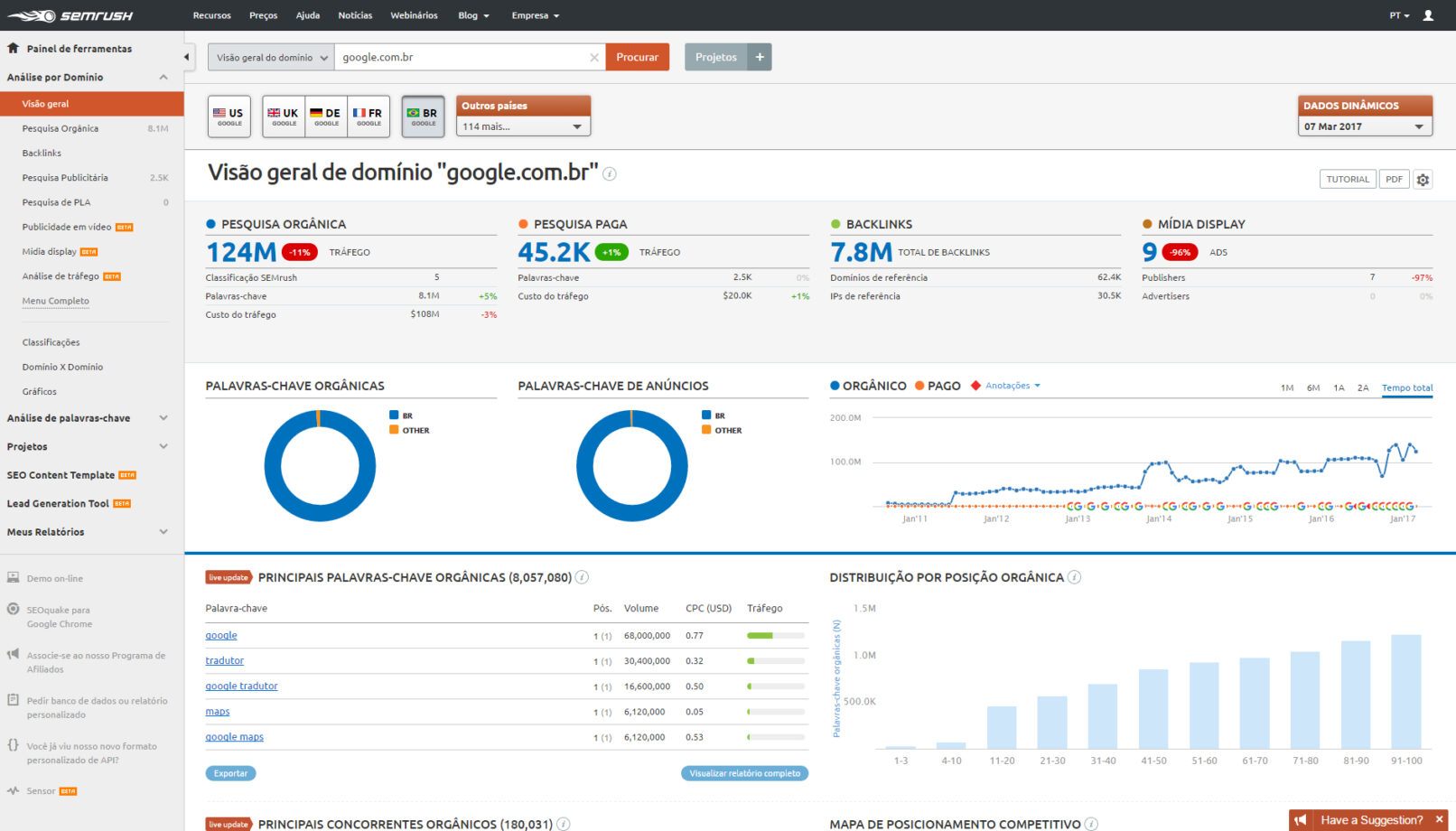 Now I will explain your fields on the report page:
Keyword: these are the keywords that are ranked for a specific page
Pos: Position of the keyword in the search engine (specific). In this example, I already selected the default Google database, but you can change it to other locations and search engines.
Volume: This is the number of exact match queries for that keyword
CPC: Average cost-per-click for the keyword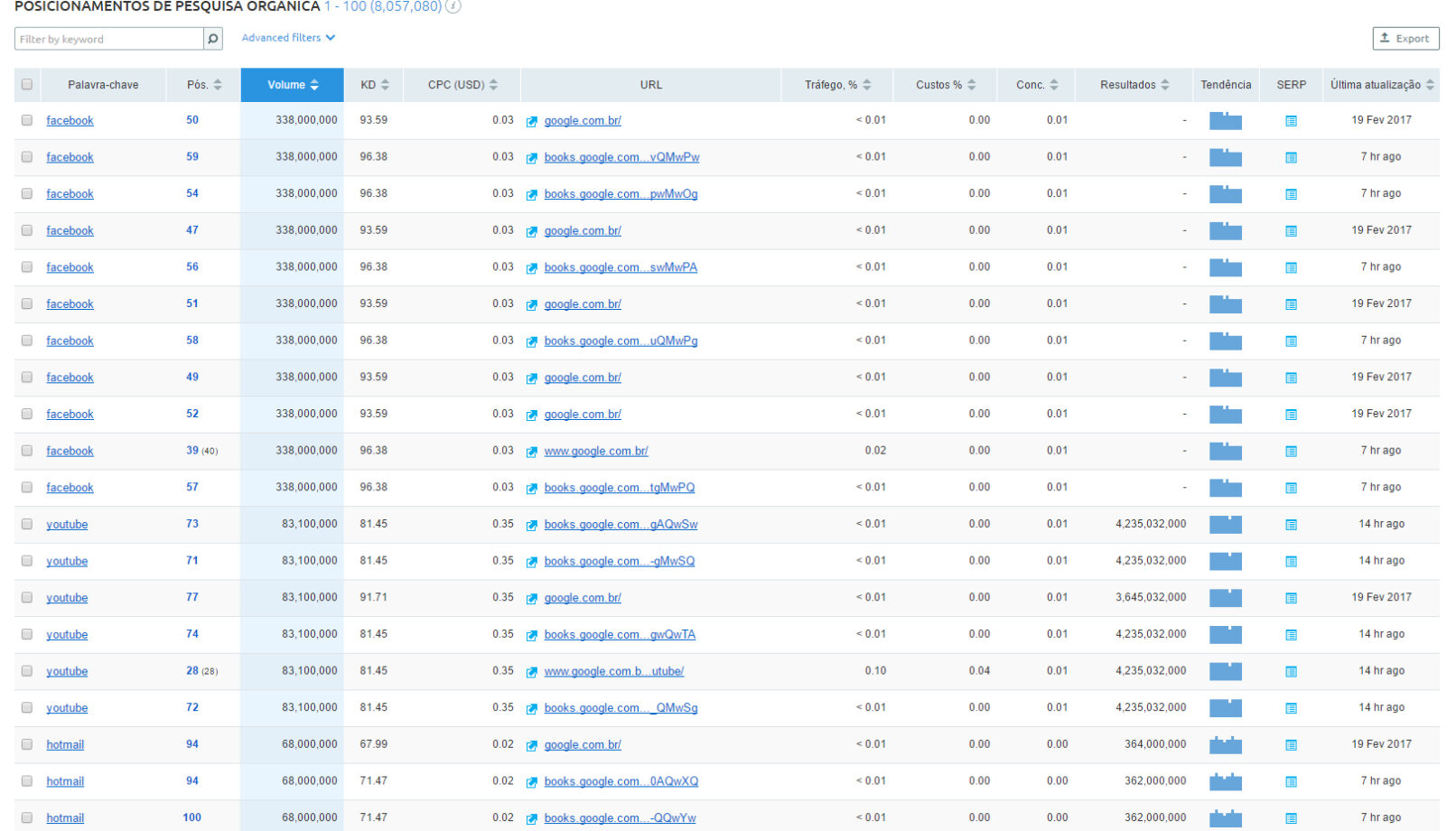 URL: URL to which keyword is driving traffic
Com: shows competition from advertisers for that KW (keyword) A lower number means there is little competition and a higher number means more competition for that term
Results: This is the number of search engine results (a smaller number is always better)
Trend: This is just a column that I find very interesting in order to find profitable keywords. We need to make sure that the traffic trend for that keyword is not dying…. The column pulls up the search trend for that keyword over the past 12 months…
The most interesting factor here is to see all of the main keywords that are driving traffic to that site.
So, back to the question I asked above:
My answer will be
How can you use this tool to drive more traffic to your website?
Place the competitor's website and check which keywords he is ranking and try to write quality content based on those keywords and beat him.
Let's compare SEMRush with other tools:
Similarweb : shows just how much traffic a website is getting and from where (for some websites it shows 0 mntlhy traffic but it is the opposite = site receives xxx.xxx monthly visitors)
MajesticSEO shows you only the backlinks and the anchor text
To be honest, no other tool can do what SEMRush can … Just don't waste your time with other limited tools.
Liked? This is just a small sample of what Expert Digital will offer you.
In this Free Online Marketing Course you learn the differences between Marketing On and Off? or know terms and tools such as: Social Media and Networks (Facebook, Twitter, Instagram, Whatsapp, Twitter, Youtube and Linkedin), Search Engines (SEM and SEO), Display Network, Adsense,
Programmatic, Email Marketing, Remarketing , Types of Sites, UX and Analytics? Know everything in the Digital Marketing Course for Beginners by Expert Digital by clicking on the banner above!
If you want to know more about Digital Marketing, subscribe to our list to receive weekly and free content.
I would love to hear your thoughts on the content through a comment below.
And if it was useful for you, take the time to share it with a friend who needs tips like these.